(EN) The power of workplace branding
26.07.2019
(EN) WORDS BY RONNEN GOREN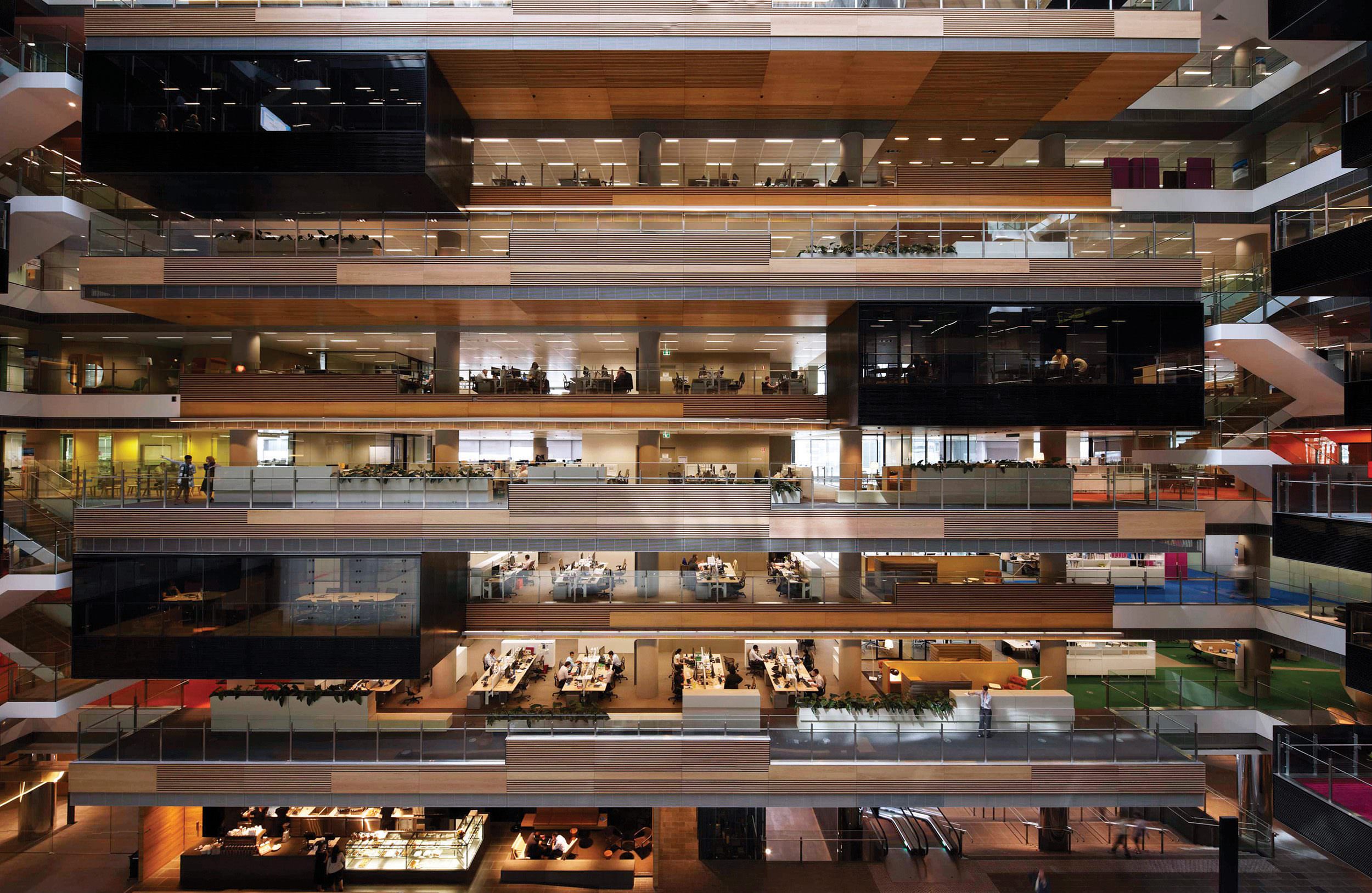 (EN) Workplace branding is the latest tool for employers aiming to attract and retain the best talent.
We are seeing the growth of this trend, especially among top-100 and tech companies. Recently, the studio worked closely with respected international engineering practice Arup and architects Hassell to develop a unique branded environment for Arup's new Melbourne offices, which were completed in September 2018.
The Arup project continues a partnership between Studio Ongarato and Hassell that has seen the practices collaborate on branding and architecture for innovative workplaces including Medibank Place and the ANZ Centre, both located in Melbourne's Docklands.
Studio Ongarato has focused on the relationship between branding and the built environment for almost two decades. More recently we are seeing better awareness of its importance, especially among the bigger and more progressive firms, who want to put their corporate culture on show and make their workplace somewhere that people want to be.
Arup – regularly voted as one of Australia's top-100 employers for graduates – is a firm that understood early the value of a clearly defined company culture. In 1970 founder Ove Arup gave a speech that set out the organisation's aims: pursuing quality work in a humane organisation that is "straight and honourable" in its dealings. Being useful to society. The speech is still required reading for all new Arup staff.
Ove Arup understood workplace branding before it even had a name, recognising that good workplace branding is an investment in people and culture and boosts morale and productivity. By creating a brand that employees can see and understand, it creates a powerful sense of teamwork and community which is motivating and inspirational, in tangible ways that contribute to the bottom line.
For Arup, Studio Ongarato embraced the company philosophy of continuous engineering refinement and the design response involved extensive collaboration, testing and experimentation.
Our creative concept for Arup interprets the theme of 'Testing Grounds' as a representation of investigation, discovery and innovation – key capabilities of an organisation known for its engineering feats. Notions of testing and measurement are expressed in the workplace branding throughout, with the workplace designed to encourage behaviour that is consistent with the brand.
The project scope included placemaking, wayfinding signage and environmental graphics. A custom-designed, programmable system of suspended LED signs sits at the heart of the studio's response.
(EN) Arup Workplace, Melbourne
(EN) Arup Workplace, Melbourne
(EN) Arup Workplace, Melbourne
(EN) Arup Workplace, Melbourne
(EN) Designed to host information controlled by a custom-built app, these signs guide users through the building and orient employees at the activity-based workplace, where traditional cubicles have been replaced with workspaces that employees can move between according to tasks and needs.
For the wayfinding system we used a humble palette of raw, modular components but elevated them with considered design details. The design expression fits with Arup's corporate values of honesty, integrity and ingenuity.
Arup's laboratories – for acoustic tests, model-making and light experiments – inspired a response based on mathematical grids, another evocation of testing and experimentation. A grid overlay was introduced as both a two-dimensional graphic pattern and three-dimensional extruded forms. A unifying grid is applied to glass wall partitions and also interpreted in a range of materials on the lab exteriors. For example, with the model-makers' lab we took the concept of the grid and extruded it in timber, so it's as if the space itself had made its own environmental graphics.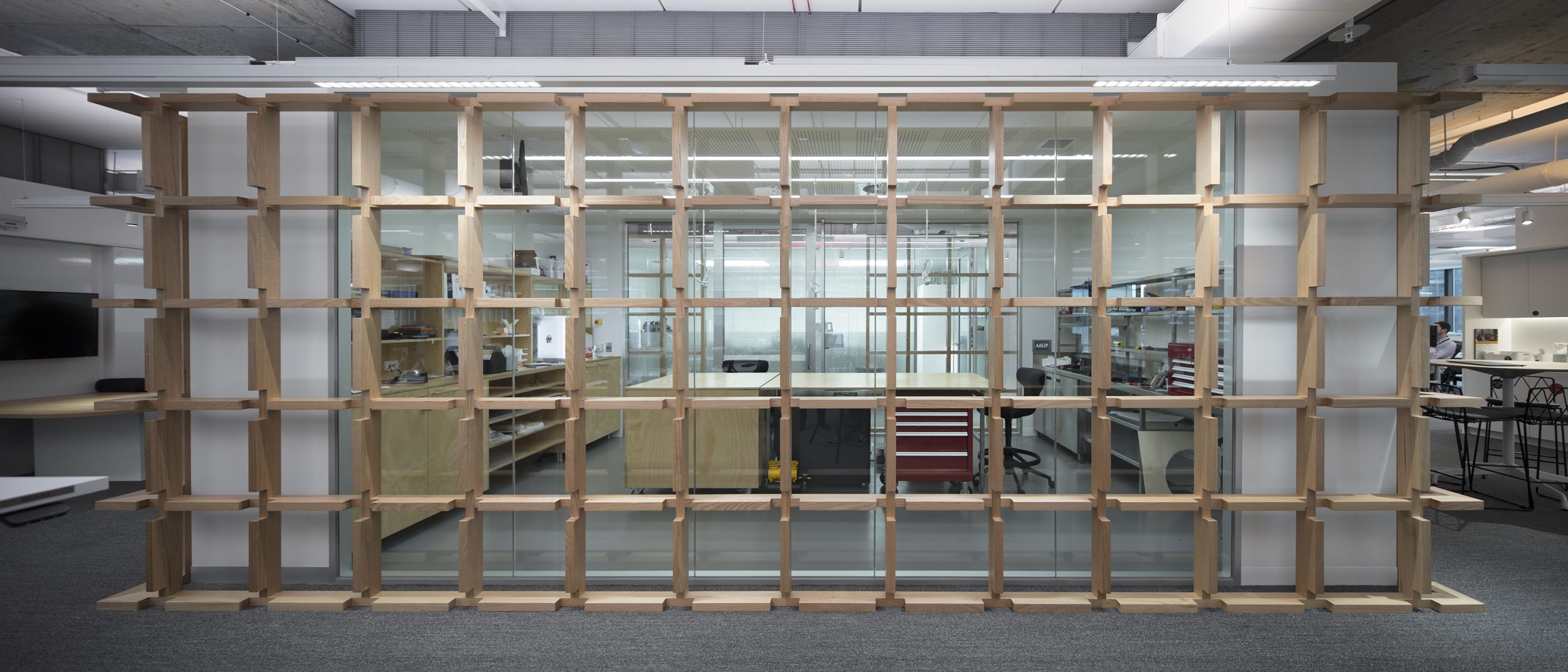 (EN) Following the same rationale, the sound lab features pillowed acoustic panels while, for the light lab, Hassell devised a silver block-out curtain that can be drawn or pulled to reveal or hide the workings within.
Hassell expressed Arup's open culture by connecting all three levels of the Melbourne office with large, open void areas. With the labs, Studio Ongarato took a bold approach to materials, form and scale to distinguish them within the open-planned workplace but also to connect these spaces across all levels when they are viewed from the voids and mezzanines.
Another Studio Ongarato partnership with Hassell makes for an interesting comparison with Arup; Medibank is a building that has its organisation's focus on health hardwired into its architecture. Both Arup and Medibank are agile and activity-based but the design process led to completely different workplace brands.
The divergence is explained by a methodology that we use for all our projects, which is research, immersion and stakeholder engagement to understand the company values and drivers of each project.
Arup was all about collegiality, working together and transparency. Medibank, by contrast, was undergoing a process of massive cultural change, moving from being a government-owned organisation to a public-facing entity.
Hassell's design was driven by a vision of "health-based working" and staff are encouraged to move on foot up and down Medibank Place's light-filled central atrium, each level of which is individuated within a colour system.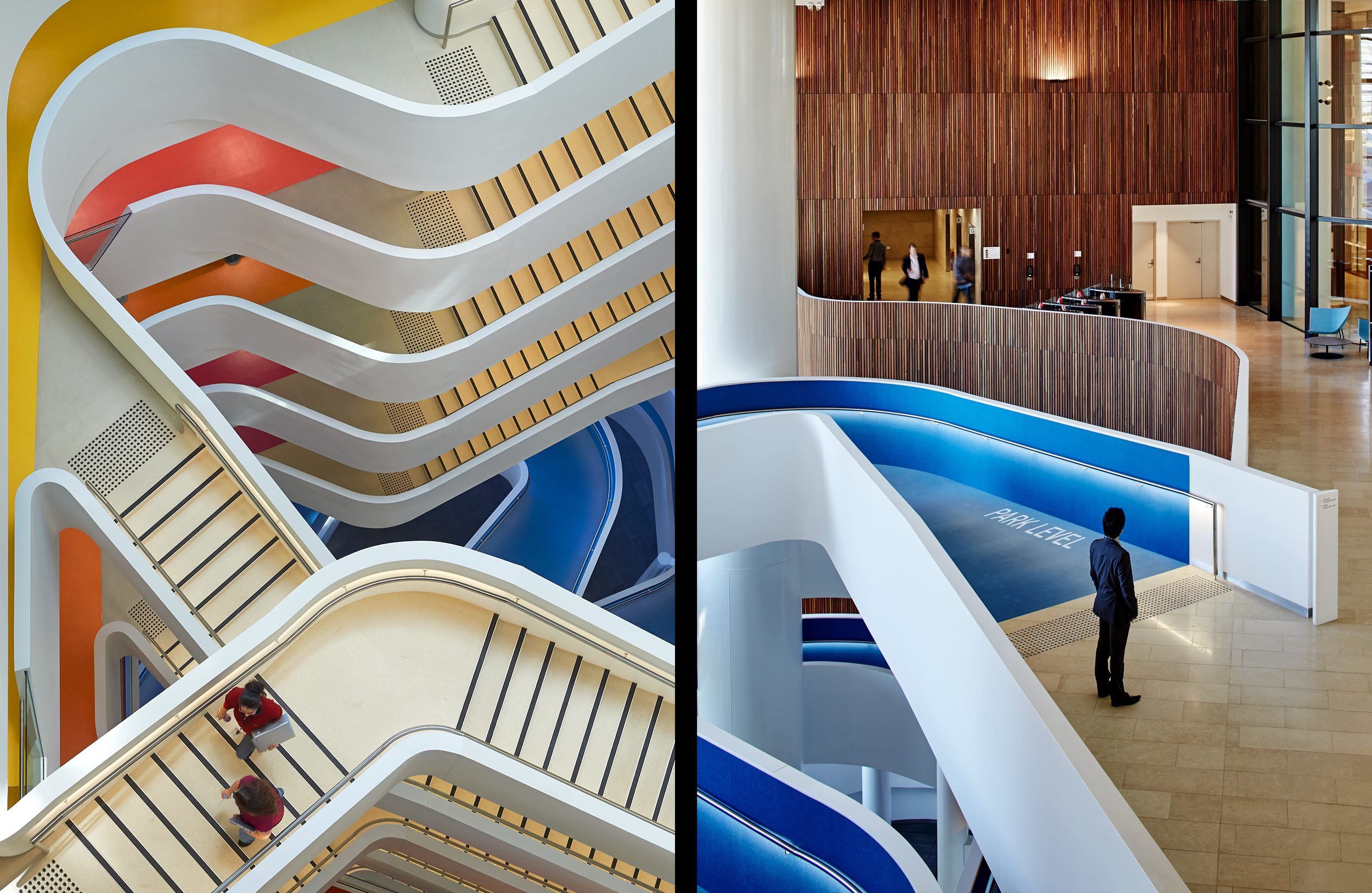 (EN) Medibank had come from somewhat bureaucratic, hidden-away premises so the transformation process was all about bringing in colour and vitality, creating a certain energy. We worked closely with Hassell from the outset to embed a systematic approach to the colour spectrum and hues; these were designed both to create vibrancy and orientate people within the architecture.
ANZ Centre is one of the most open and permeable banking headquarters in the world – rarely, if ever before, had a bank invited the public into the heart of its workplace. The ANZ Centre's urban campus houses 6,500 people – as many as a small town – and sets a global environmental and social sustainability benchmark. The design focuses on a central common, its openness fostering interaction, and also features a rich variety of settings to provide human scale and complexity.
In collaboration with Hassell and developers Lendlease, Studio Ongarato devised a comprehensive suite of wayfinding and environmental graphics. The studio responded to the ANZ Centre's monumental scale with large sculptural wayfinding elements and also worked with the clients to create four hub environments – named Create, Grow, Move and Click – that could support different behaviours and activities which ANZ wanted to encourage based on its vision for the company culture.
(EN) ANZ Centre Hub, 833 Collins Street, Melbourne
(EN) ANZ Centre Hub, 833 Collins Street, Melbourne
(EN) ANZ Centre Hub, 833 Collins Street, Melbourne
(EN) In the last decade visionary CEOs have recognised the power of workplaces to steer an organisation and that is now filtering down to other levels of company culture. Great businesses understand how workplace branding can embed and enhance corporate values, ways of working and attitudes.
(EN) Photography

(EN) Arup Melbourne: Ben Hosking, Earl Carter

(EN) Medibank: Peter Bennets, Earl Carter

(EN) ANZ Centre: Earl Carter