(EN) The emotion of engagement – brand in the experience age
12.07.2019
(EN) WORDS BY FABIO ONGARATO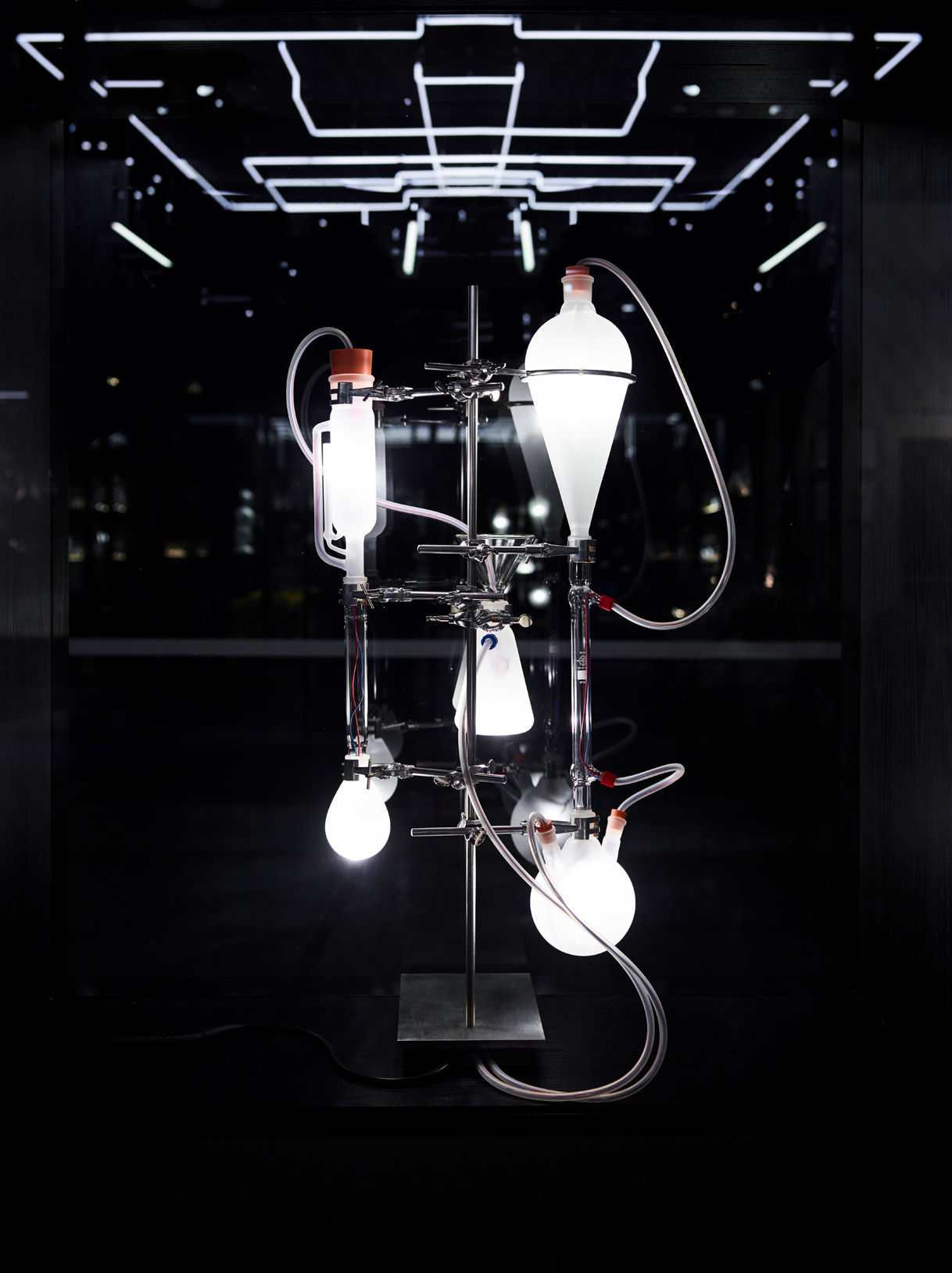 (EN) The rise of digital technologies has meant that our engagement with the world is in a state of ongoing contradiction – our attention is increasingly fragmented, yet our experiences are perpetually captured and permanently filed in the digital ether. In this age of content saturation, we are all curators seeking only the most resonant ideas and experiences.
This presents us, as designers, with the challenge of how to command attention without losing the substance, depth and meaning behind a brand, experience or idea. Beauty alone is no longer enough. Good design must touch both the heart and the mind for it to have lasting cultural relevance.
So how might brands cut through this milieu and have meaningful, lasting impact? Moreover, how do we, as designers, create brands and experiences that not only stick, but interact with the social and cultural consciousness? As designers, it is our role to ask: How can we design brands that appeal to our humanity? How can we design experiences that enable people to feel engaged, awakened, even empowered? How do we create something out of the ordinary in order to stand out?
For those of us in the business of brand, it might seem efficient to devise a formula for this kind of cut-through. But the reality is that such an effect is usually the result of a rare kind of alchemy, found through collaboration and a keen engagement with culture. It requires that we are willing to push ourselves outside of our comfort zone and, in doing so, encourage our clients to do the same.
To achieve this, we look to define the tension points in a given brief – those which are unequal or not immediately visible – because this is where a brand's true point of difference is. To apply creative force to those tension points we have always drawn on multiple disciplines – from architecture, art, fashion and music – to form a collective field of ideas. Working with multidisciplinary creatives, both within the studio and beyond, challenges us to approach each project with multiple views of its potential. It prevents formula and habit from pulling us towards expected outcomes.
Hotels and hospitality projects have always provided strong opportunities for engagement with the brand behind the venue. But recently, it seems there has been a burgeoning fascination with how our experiences shape our identity, which – in turn – has caused a shift in how we perceive luxury; no longer measured by a brand's price-point or origin alone, but the lasting value it gives us on a deeper level. Now, guests of high-end hospitality want not only to engage with the brand, but also to insert themselves into it, as they might with a rarefied and interactive art exhibition or performance.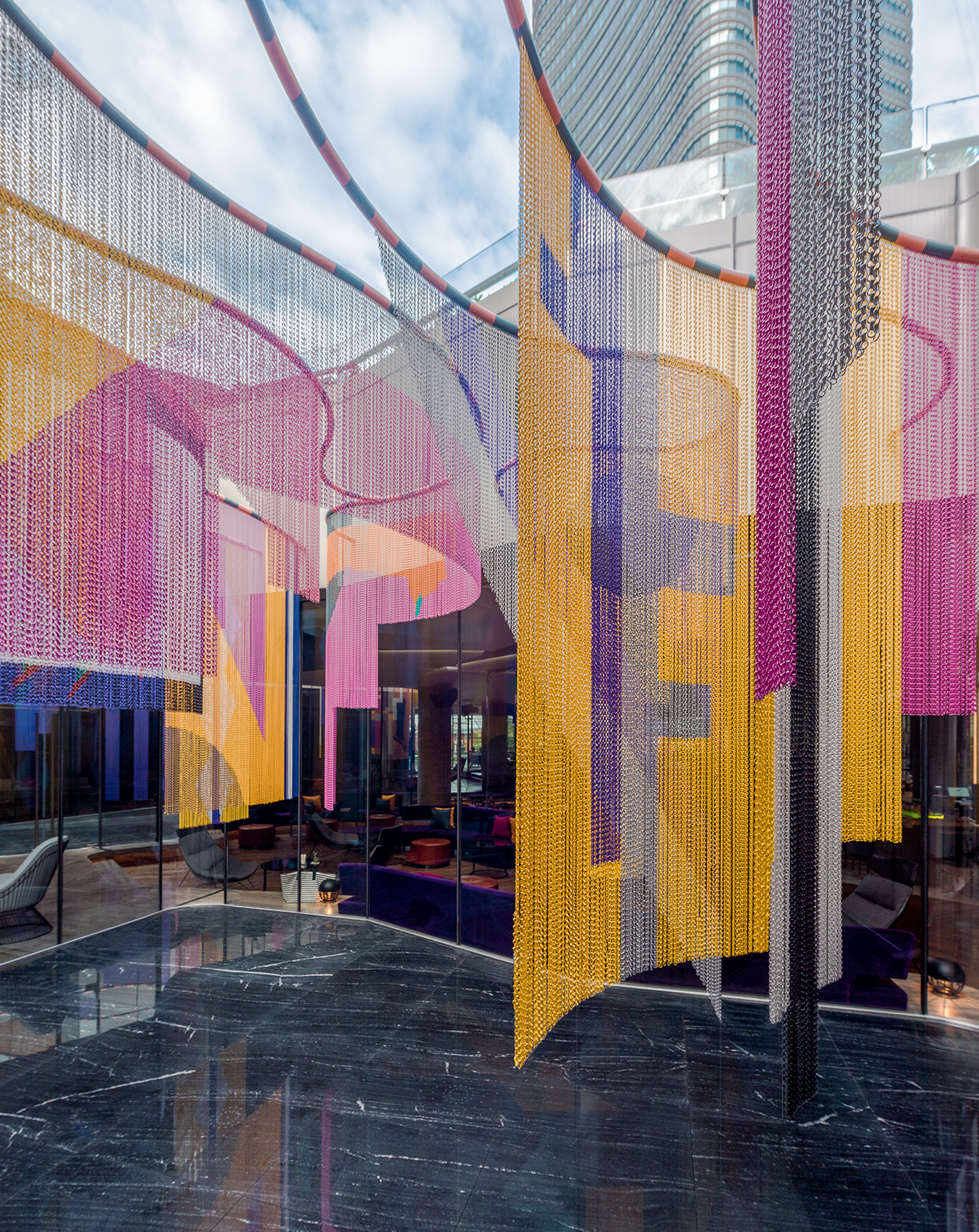 (EN) At the recently opened W Shanghai Hotel, Studio Ongarato created and implemented a design narrative through styling, custom interior installations and by acting as an art consultancy. The resulting hotel narrative theme, 'Captivating Contrasts', influenced by the uniquely Shanghainese culture of Hai Pai, explores the art of bringing together the East and West. We engaged local and international artists to bring different perspectives to the hotel including international artist Assume Vivid Astro Focus. Local Shanghai illustrators and street artists drew on their authentic connections with the city in the spirit of Hai Pai to engender a strong sense of meaning and context, encouraging guests to engage with the W brand on a deeper level.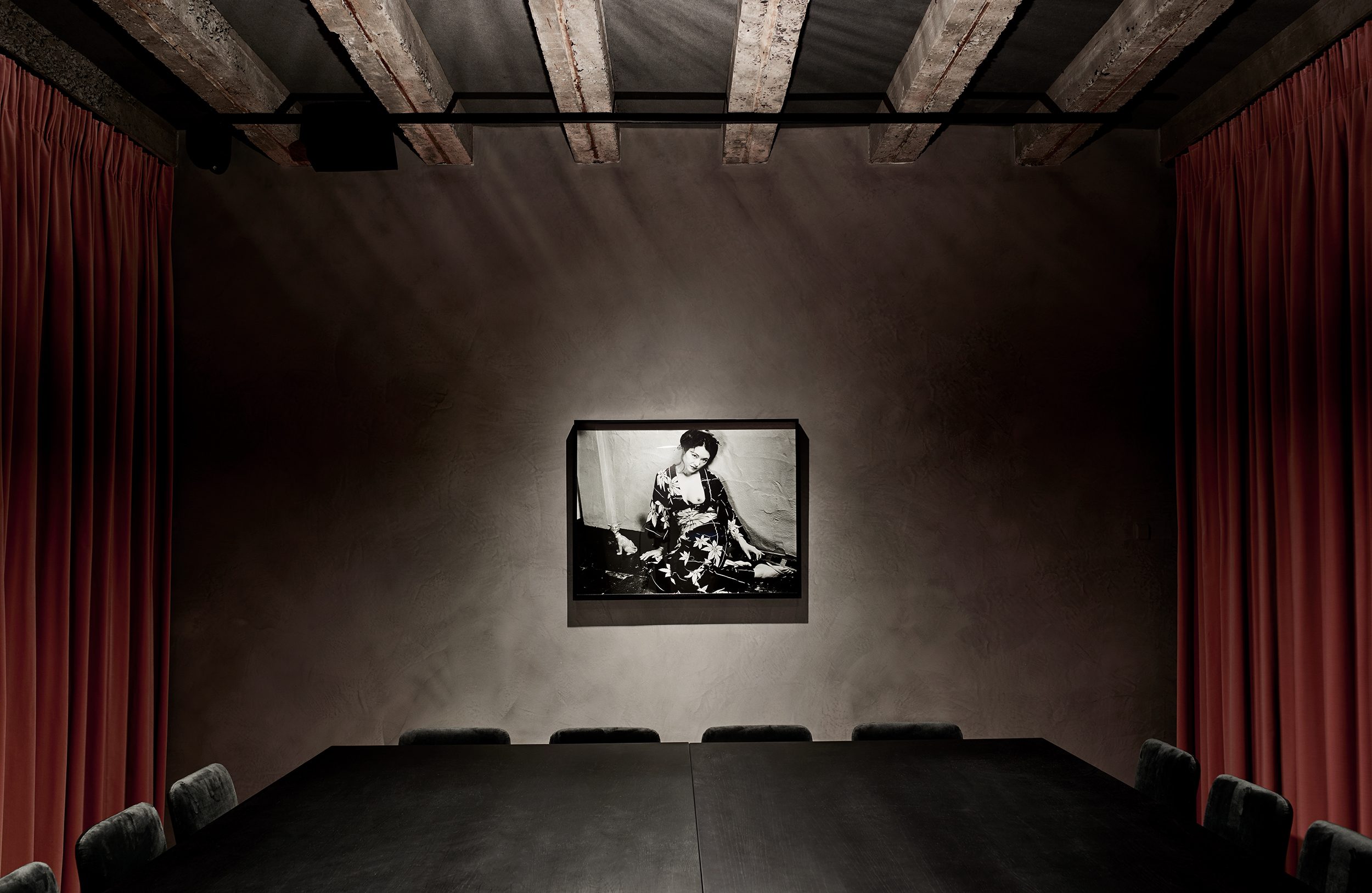 (EN) At Melbourne restaurant Kisumé, Studio Ongarato explored designing an experience that would immerse guests in an intriguing view of Japanese traditions. Photography by Polly Borland adorns the walls alongside spot lit bondage themed photos by controversial Japanese artist Nobuyoshi Araki. Araki's work plays the on tension between tradition and subversion in much the same way as the use of circular graphics make subtle reference the Japanese flag. Warped graphics on the circular window at street level offer passers-by an obscured glimpse within, of methodical chefs working silently on their craft. Fusing beauty and sensuality with Wood Marsh Architecture's sophisticated interior, the resulting brand identity projects a provocatively warped view – one that tugs at our curiosities and asks us to acknowledge our desires.
Good design can reveal an experiential dimension that excites those of us open to its appeal. By awakening more than just the eye, good design invites us to reassess ourselves and our own understanding of the creative context. When brands are unafraid to take creative risks, the effect on its audience and consumer can be potent.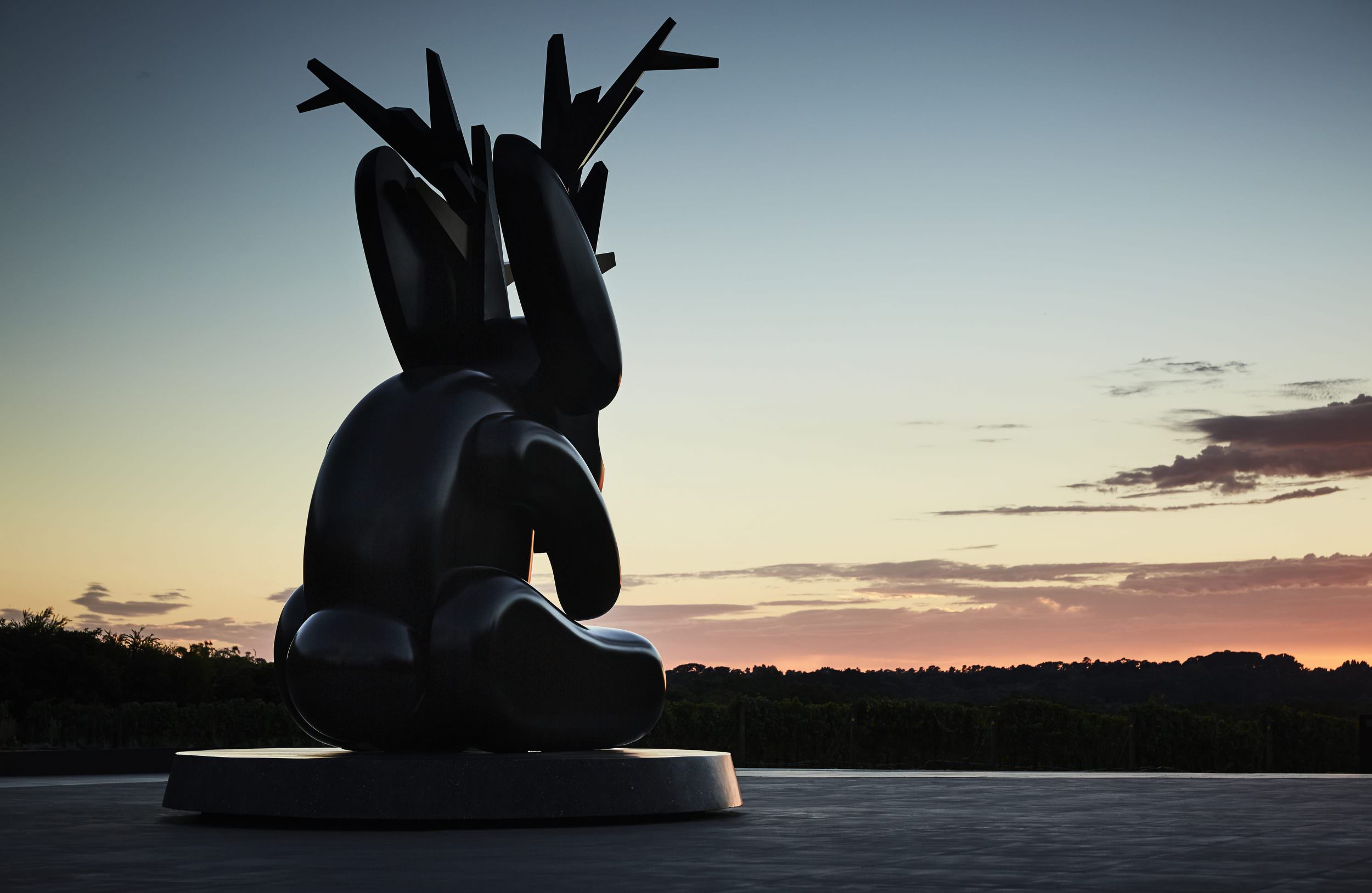 (EN) At Mornington Peninsula's Jackalope, we endeavored to ensure the guest experience mirrored the unique oeuvre of the site. Careful consideration was given to each of the hotel spaces to maximize the sense of intimacy without discounting the site's cinematic appeal.
At each turn, visitors are encouraged to engage with a thematic world where the mythological narrative of the Jackalope is unveiled incrementally, yielding a sense of discovery and allowing the guest to become ensconced in a mythical narrative which is equal parts beautiful and sinister. The effect of that immersion is that the value of the Jackalope brand is now about more than the sum of its luxurious physical attributes.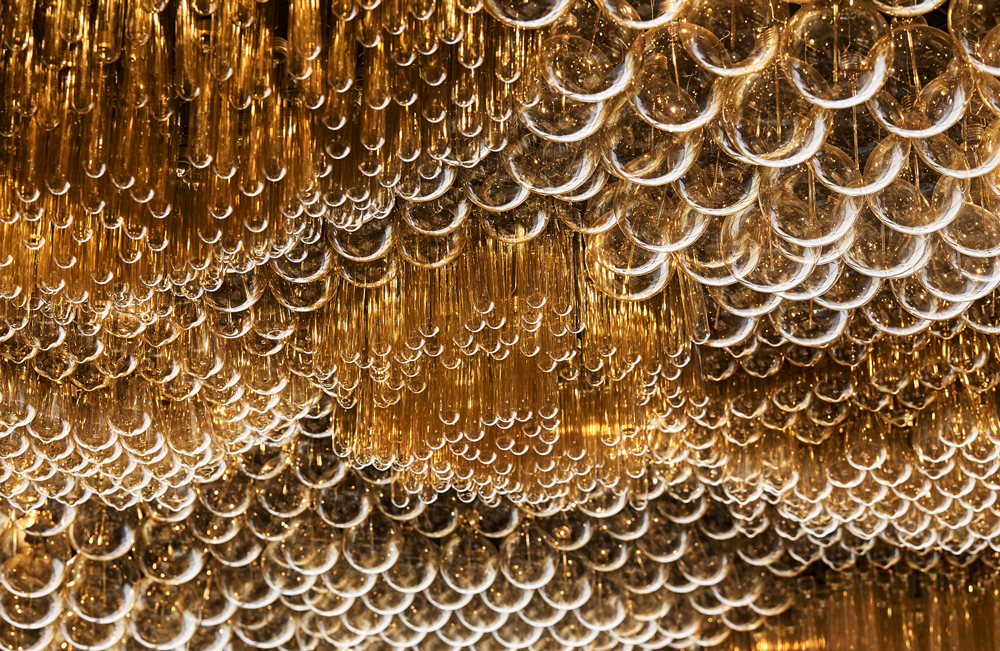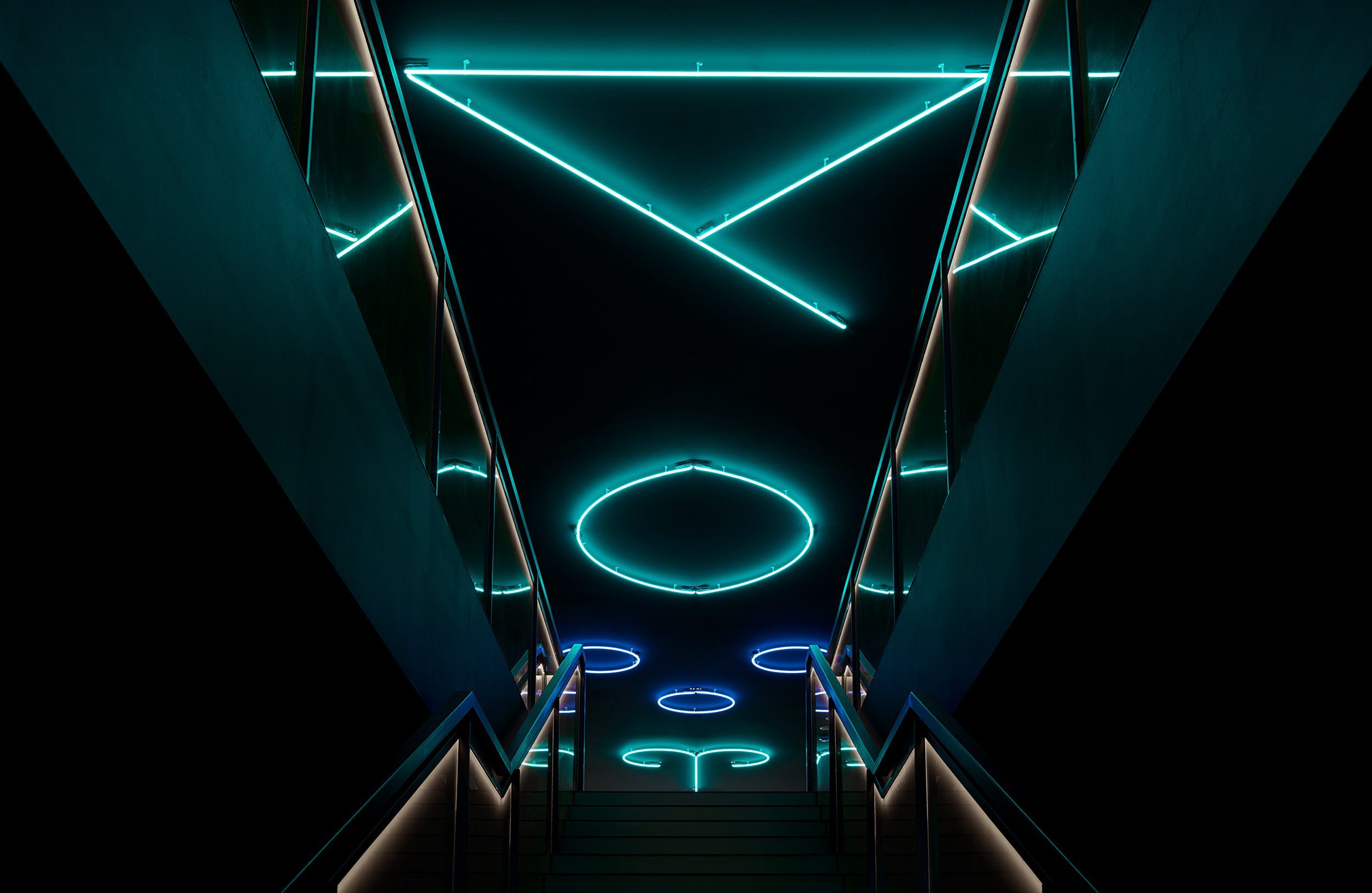 (EN) With Jackalope and these other projects, a holistic approach to design focuses on the centrality of guest experience, ultimately contributing to long-term brand loyalty. That ethos is just as effectively applied when developing brand identities and experiences in retail, the arts and architecture. For example, our 'Living Lab of Beauty' concept for Mecca Cosmetica's Signature Line valued consumer experience and the brand's 20-year legacy in equal measure.
Perhaps most importantly, we appreciate that human-centric design disciplines are rooted in emotion. Just as any good architect, musician, fashion designer and artist strives to elicit an emotional reaction, we are no different. It's in speaking to our inherent needs and desires that brands can engage with our emotions, engender a sense of meaning in our lives, and have a lasting place in the social and cultural lexicon.
(EN) Photography

(EN) W Shanghai: Dirk Weiblen

(EN) Kisumé: Mark Roper

(EN) Jackalope: Mark Roper, Sharyn Cairns